The Organization for Taiwan's participation in the IECQ Assessment System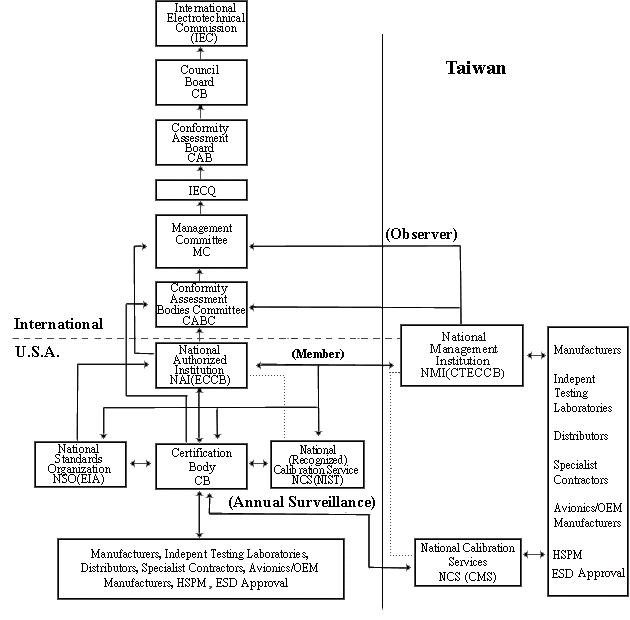 The Organization for Taiwan's participation in the IECQ Assessment System:

International level¡G
IEC Council delegates to the CAB (Conformity Assessment Board) the management and supervision of the IEC's conformity assessment activities, including oversight of the IEC conformity assessment systems. The CAB represents the IEC conformity assessment community. The CAB is a decision-making body which reports to the Council Board. CAB is the management of conformity assessment policies, activities and systems including IECQ, IECEx, IECEE and CAB Working Group.
The MC shall have to manage the IECQ System in accordance with the Basic Rules of the IECQ Scheme, to promote the IECQ System, to submit an annual report on its activities to the CAB and to carry out any other tasks relevant to the object of the IECQ System, given to it by the CAB.
The CABC is responsible to the MC for the supervision of the uniform application of the Rules of Procedure concerning quality assessment and includes among its duties the coordination of the activities of IECQ CBs. It shall advise the MC on any matters related to quality assessment.
All decisions made by the CABC shall be regarded as binding on the IECQ CBs. Each delegation shall indicate, at the request of the CABC Chairman, the date on which a decision will become effective in its country.

National level:
It is the responsibility of the relevant NAI in each participating country in the establishment of the national rules implementing the System, to provide the necessary legal protection against any violation of that country¡¦s law.
The NAI is responsible for ensuring that the provisional specification prepared for submission to the MC complies with the Rules of the System and that it is compatible with any relevant IEC standard.
The NAI shall submit the draft provisional specification to the Secretary of the MC with a request that the document be authorized for use within the System. It shall also give an undertaking that no certification will be made to the document prior to its acceptance by the MC.
Each NAI shall have his/her own CB, NSO and NCS/RCS to implement the IECQ System.

Taiwan level:
CTECCB acts as a NMI, similar to the NAI. Now CTECCB implements the IECQ System through the US NAI.
IEC¡G International Electrotechnical Commission
CB¡G Council Board
CAB¡G Conformity Assessment Board
IECQ¡G International Electrotechnical Commission Quality assessment system for electronic components
MC¡G Management Committee
CABC¡G Conformity Assessment Bodies Committee
NAI¡G National Authorized Institution- ECCC
NMI¡G National Management Institution
CB¡G Certification Body
NSO¡G National Standards Organization
NCS/RCS¡G National (Recognized) Calibration Services- NIST(U.S.A.)¡A CMS(Taiwan)
The web site of ECCC is http://www.eccc.org